Industry Leading CRM For Financial Professionals
From banking and insurance to wealth management, EMS has a dedicated financial services team serving all major areas of the financial services industry. We understand that financial services institutions are facing an exciting, yet precarious, time. We work alongside all types of banks, including commercial, private and retail banking clients, to develop and implement strategies with the Salesforce platform leveraging Financial Service Cloud that address immediate challenges while laying out a clear plan for future.
At EMS Consulting, we are your Salesforce Financial Services Cloud implementation partner, and we want you to not only feel confident in your purchase of FSC, but also in our ability to make sure you achieve the highest possible return on your investment. EMS has been helping wealth managers, advisors, advisor teams, high-end retail banks and insurance advisors selling wealth management products with Financial Cloud integration since FSC first launched in 2016. With hundreds of implementations under our belt, we help financial advisors transform their client-advisor relationships to take advantage of all the digital age has to offer.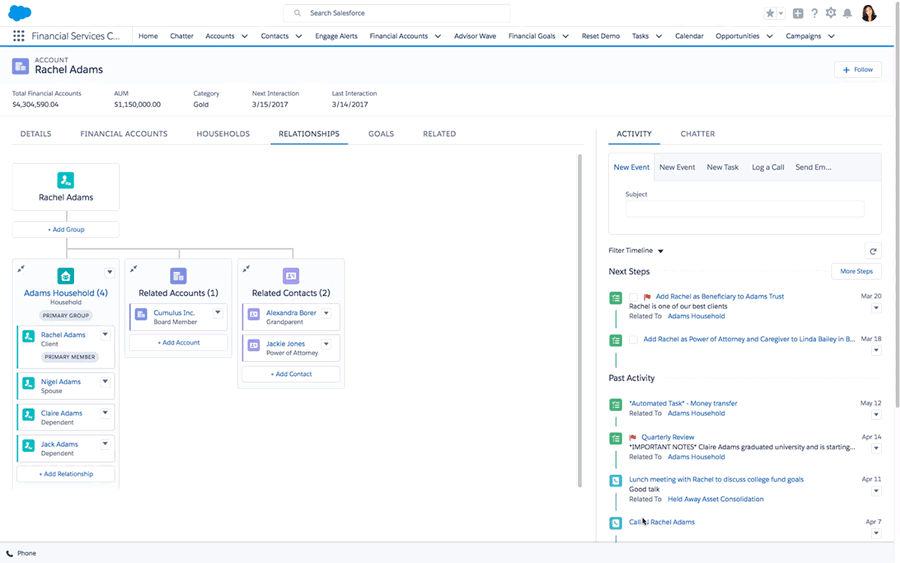 Built for Financial Services
Financial Services Cloud is the first industry product built by Salesforce, tailored specifically to and for all verticals within the Financial Services Industry. Financial Services Cloud gives financial services professionals access to the industry-leading CRM capabilities of Salesforce plus the ability to create personal experiences that build customer trust and loyalty through Financial Services Cloud.
Always In Compliance
The Salesforce Financial Services Cloud is industry compliant, falling in line with the new DoL fiduciary rules. Our Salesforce architects at EMS Consulting can customize the financial cloud software to meet your company's specific needs so you start streamlining your processes and maximizing your profits. We are trusted partners with Salesforce and have a team of Salesforce-certified developers to help you find the right solution for you. Contact us today to find out more about Salesforce for Financial Services.
Salesforce has made us a better bank.  It has allowed us to better serve our customers without increasing our overhead. Get Started With Financial Services Cloud Today!
We Bring Unparalleled Knowledge, Expertise & Experience To Every Project