Salesforce is Transforming Credit Unions
Credit Unions are launching an omni-channel digital banking platform powered by Salesforce Financial Services Cloud and Community Cloud to enable a new, best-in-class member experience. With Financial Services Cloud, EMS Consulting can help you create a more seamless and personalized digital experience that continues to put members first and gives them the ability to interact with the credit union virtually, with ease and flexibility. Ideally you want to offer your members the ability to open new accounts or apply for a new loan with just a few clicks and get results instantly on their mobile device.
Financial Services Cloud provides banks and credit unions with proven best practices with member relationship management capabilities including campaign management, member segmentation and house-holding, and seamless cross-sell intelligence with leads and referrals.
Leverage Community Cloud to deploy an integrated digital experience that further improves customer service by providing members with more flexibility and personalization.
Salesforce Einstein Bots for Service will enable your institution to leverage machine learning and natural language processing capabilities to automate routine service requests and speed up resolution time.
Allow your members to rely on digital and mobile platforms for 80% of their interactions.
Become an even more engaging, personalized and member-focused credit union.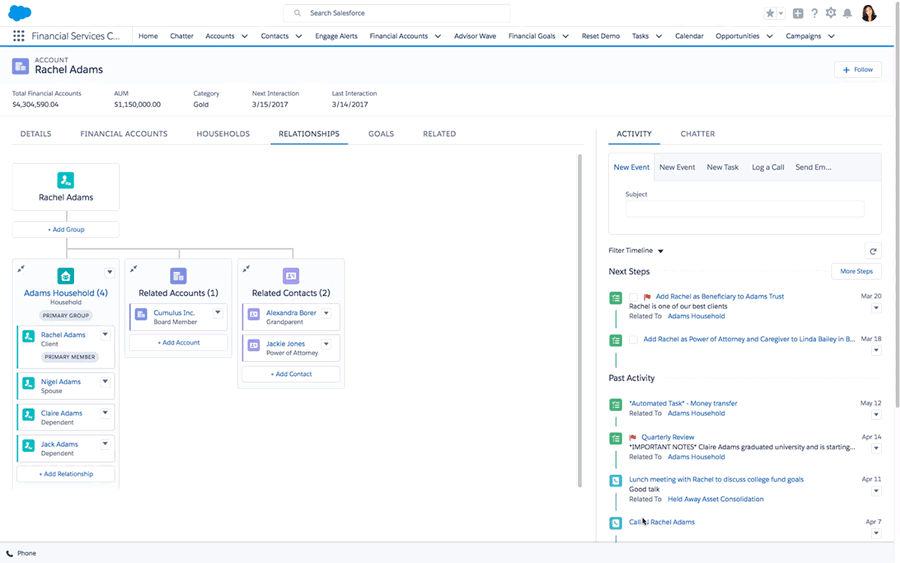 Explore Salesforce for Financial Services