Salesforce for the Whole Credit Union
Credit unions everywhere are adopting Salesforce Financial Services Cloud (FSC) to completely transform the credit union banking experience for their members. FSC can unify your member data from your core and other systems and bring it into a modern, easy-to-learn interface that empowers both member-facing and back-office operations teams to deliver exceptional member experiences.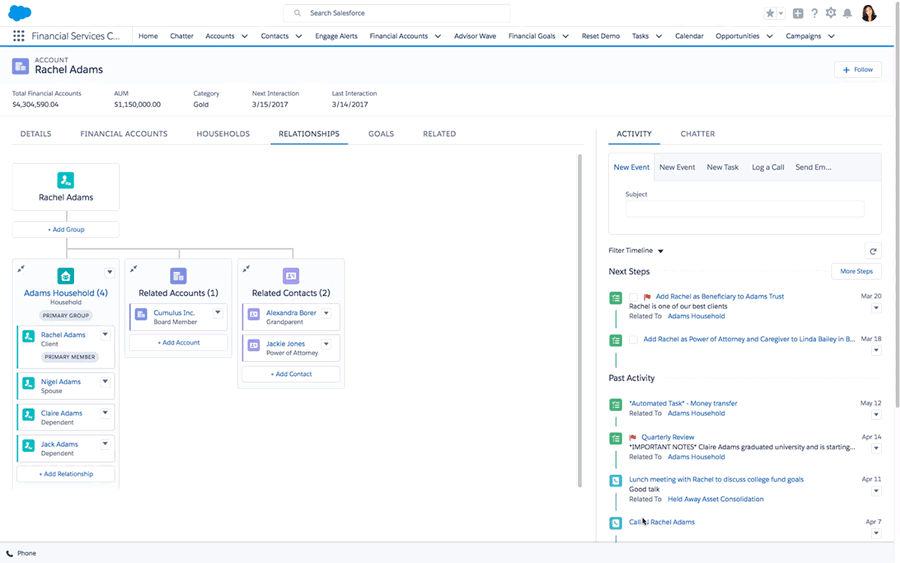 Salesforce for Member-Facing Branches & Call Centers
Manage and track new Leads, Referrals, and Opportunities on their way to becoming new credit union members
View and explore important customer relationship information without having to jump from system to system
Customize Salesforce environments by Department with Page Layouts, so everyone can prioritize the data and features their team uses the most
Take advantage of predictive intelligence by adding Tableau CRM (also known as Einstein Analytics) to the mix
Salesforce for Credit Union Operations
Create and manage Cases and Tasks within your own department and even across other departments with file attachments, account notes, and more
Customize and deploy your own Workflows and Apps to automate internal processes, approvals, and escalations
Design and share Reports on anything being tracked in Salesforce, and create powerful Dashboards to visualize it all
Employ your own change management tracking to keep your auditors, compliance officers, and risk managers informed on what matters most to them
Salesforce for Credit Union Executives & Innovators
Integrate your core, LOS, and other critical system data into Salesforce for a true 360-degree view of your entire organization, across every department
Achieve new levels of organizational transparency with Salesforce Reports and Dashboards – and act on those insights faster than ever before
Pave the way for more "build it yourself" initiatives such as building your own loan application forms, integrated website forms, service request forms, and more
Know that your member and organizational data is safe with Salesforce Shield
Your New Salesforce Credit Union Tech Stack
Salesforce Financial Services Cloud (FSC)
One of the biggest benefits of adopting Salesforce FSC is how truly connected your credit union can become, at both the technological and human levels. Centralizing your member data into the Salesforce means everyone in your organization can interface with fewer systems, has fewer logins to remember, can help members much faster, and consumes fewer user licenses.
Eliminate departmental barriers by giving everyone in the credit union a way to assign, manage, and escalate Tasks, Cases, and Events — even across other departments.

Empower member-facing representatives to build Households and track Life Events for more meaningful member interactions and marketing.

Automate your managers' and leaders' most time-consuming reports and critical KPIs, giving them more time to lead and strategize with their teams.
Salesforce Integrations with Core, LOS, & More
Integrations really bring your Salesforce ecosystem together and will help aid in the adoption of Salesforce across your whole organization. It's important to include the most critical systems and data while slating extras for future phases. Common credit union integrations with Salesforce include:
Core transactional systems such as Jack Henry Symitar, Fiserv, and many more

Loan origination systems like Encompass, nCino, Blend Mortgage LOS, Fusion Mortgagebot, and more

Collections management systems

Almost any other legacy system
MuleSoft for Credit Unions
Credit Unions with complex system integration needs should consider adding MuleSoft to their roadmap. MuleSoft helps organizations overcome countless technical and integration hurdles and can even help older legacy systems behave like modern, API-led platforms.
Simplify your tech stack integrations and lessen the impact of changing core and legacy systems in the future.

Enable older, even outdated legacy systems to act like modern, API-led platforms with real-time data flow.

Unify your entire credit union data model and unlock your member data across the entire organization; no more data silos.
Salesforce Marketing Cloud for Credit Unions
With Salesforce Marketing Cloud connected to FSC, you can leverage your data to start transforming your member experience with automated and triggered omni-channel interactions.
Send highly personalized emails to deepen member relationships.

Organize your members into segments like shareholders, depositors, borrowers, commercial relationships, and more.

Onboard, cross-sell, and educate your customers with automated journeys when they apply for new services, open new accounts, and experience significant life events.

Build social media audiences with Advertising Studio using your member data.

Stop bugging IT every time you need a new member list; FSC synchronizes member data into Marketing Cloud every 15 minutes!
Is It Time To Transform Your Credit Union? Our Experts Are On Standby
Ongoing Salesforce Support For Credit Unions
The EMS Consulting Cloud Advisor program will give you ongoing, monthly access to our team of certified Salesforce platform experts. Instead of directly hiring individual resources that know these areas, EMS can provide access to all of these areas of expertise for one monthly price:
Salesforce FSC, Sales, and Service Cloud
nCino
MuleSoft
Marketing Cloud or Pardot
Datorama
Explore Salesforce for Financial Services