Salesforce FSC for Insurance
Give your producers, brokers, and agents the world's number 1 relationship management platform to support and deliver omni-channel experiences for each and every policyholder and client.
Many insurance carriers struggle to deliver on basic digital experiences, with legacy applications posing the most common obstacle to digital transformation. With Financial Services Cloud (FSC), Salesforce provides the platform that allows insurance brokerages and agencies to overcome legacy constraints and transform their businesses.
FSC is everything you love about Salesforce CRM, now tailored for insurance agents and brokers with a full suite of tools such as:
Special insurance data model in Salesforce to support policies, coverage, and claims management
Over 200 out-of-the-box Workflows you can customize and build from
Cases, Tasks, and Interaction information, all at a glance
Ability to build Households to cross-sell and deepen policyholder relationships
Lead and Opportunity management and tracking
Complete transparency across the entire company with accurate Reports & Dashboards
Future-proof and scalable infrastructure that lets you act quickly on new opportunities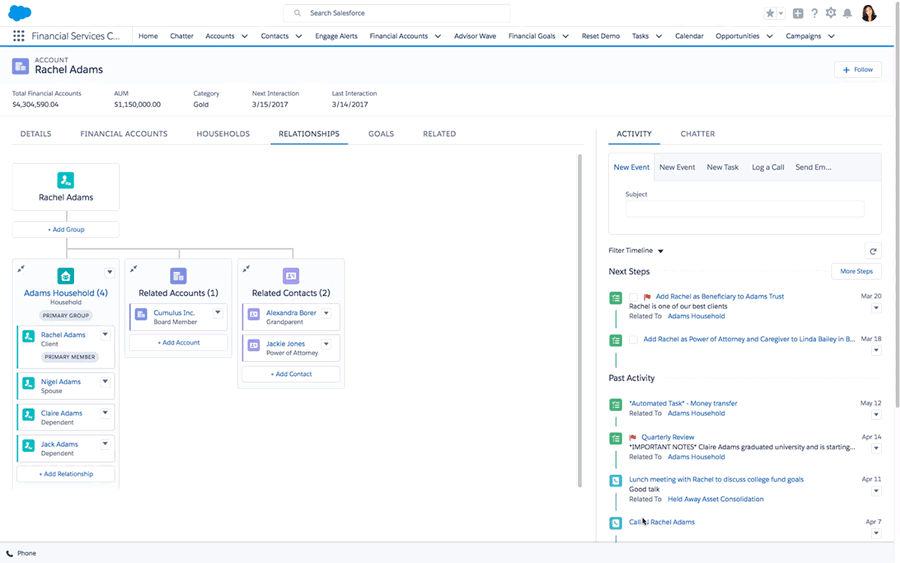 Integrations That Unlock Your Policyholder Data
Salesforce FSC for insurance provides a seamless interface and platform to help organize your complex customer relationship data. By unifying your data across all of your systems, you can more easily leverage it to deepen your policyholder relationships even further.
Unify Policyholder Data, Securely
Unify policyholder data from across multiple, disparate systems and into Salesforce using MuleSoft integration layer
360-Degree Policyholder View
Let everyone across your entire organization get a true 360-degree view of every policyholder during every interaction, all inside Salesforce's easy-to-use interface.
Personalize Your Marketing
Personalize your customer experience like never before with Salesforce Marketing Cloud, leveraging policyholder data directly out of Salesforce
We Specialize in Insurance Integrations for Seamless Connectivity
EMS considers all aspects of the insurance business and understands the different integrations that make an agency successful. Some popular integrations include:
Applied Epic
EZLynx
Veruna
TAM
AMS360
Hawksoft
Sagitta
Talk To One of Our Salesforce Experts Trust the Salesforce for Insurance Experts at EMS
We work with all types of insurers from Life & Annuities to Property & Casualty, and we have a dedicated insurance industry team that will take the time to understand your organization's structure and data model so you can make the most of your Salesforce investment. Talk to us today about your roadmap!
Explore Salesforce for Financial Services